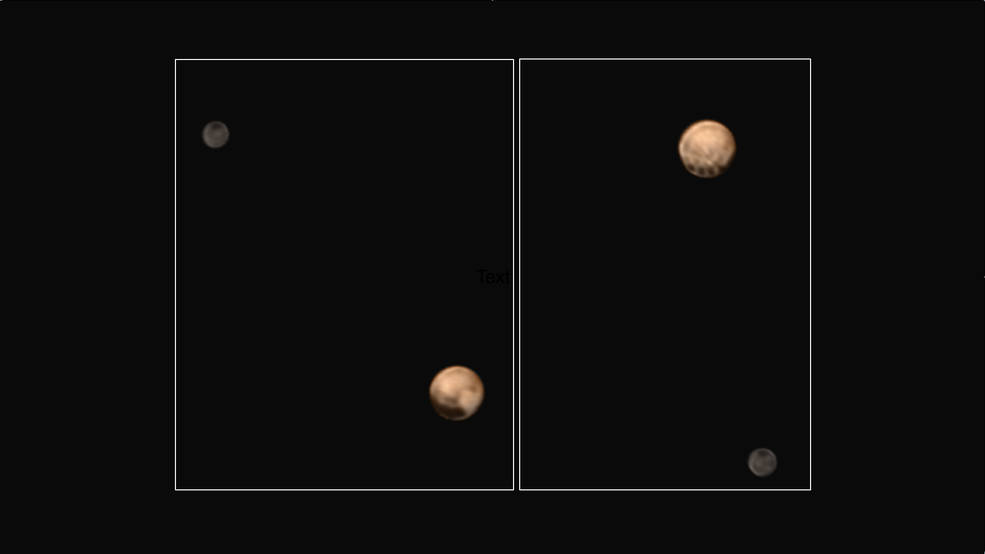 NASA's New Horizons spacecraft received a final "all clear" as it approaches Pluto at nearly 50,000 km/hr on its way to an historic flyby on July 14, 2015. Mission scientists have been using the spacecraft's most powerful telescopic camera, the Long Range Reconnaissance Imager (LORRI), to look for potential hazards such as small moons, rings, or dust, since mid-May. But the path looks clear, and the craft will continue on its present course towards Pluto and its five moons.
New color images released July 1 show two very different faces of the dwarf planet. One side of the planet revealed a series of intriguing and evenly-spaced dark spots along the equator. Each spot is about 480 kilometers in diameter with a surface area roughly equal to that of Missouri.
What are these dark spots? Scientists have no idea so far, but their similar size and spacing is truly remarkable. Mission scientists are equally puzzled by the remarkable difference in color and appearance between Pluto and its darker greyer moon Charon.
The New Horizons team combined black-and-white images of Pluto and Charon from the spacecraft's Long-Range Reconnaissance Imager (LORRI) with lower-resolution color data from another instrument to produce these new views. In the image at top, you see Pluto and its largest moon in true color, that is, the way they would appear if you were riding on the New Horizons spacecraft. About half of Pluto is imaged, so features near the bottom of the dwarf planet are at approximately at the equator.
Mark your calendar for July 14, 2015. This is arguably the most exciting encounter since Voyager 2 passed Neptune in 1989.
Share This: